Astro Business Offer
Enjoy COMPLETE coverage of the biggest sporting events in 2022 in full HD and 4K resolution.

Nasi Kandar Restaurants is Excellent for football viewing.
If there is a live football match on TV, the nasi kandar outlet is the place to be. Football fans are frequently glued to the enormous LED TV screen, shouting for their teams loudly while sipping a glass of hot teh tarik. Our country's well-known culture manages to entice people of various colours and socioeconomic backgrounds to participate.
Most nasi kandar outlets are open 24 hours a day and seven days a week, so a sudden craving for the food can always be satiated at any time of the day you also will not get bored because the Astro Sports Streaming Channel is entertaining you.
Can't decide which pack to get?
We understand choosing is not an easy task. Not to worry, our friendly sales representative is ready to help you find the perfect pack. Chat with us!
The experience of watching football in a Mamak is unique. Perhaps it's the atmosphere of everyone cheering whenever a goal is scored, or the minutes spent joking about with the losing team's fans. Whatever the case may be, we enjoy watching a game of football at a Mamak, and nasi lemak Liverpool nicely suits the bill. Furthermore, they serve excellent Nasi Lemak! So come in and watch a game of football while eating Nasi Lemak.
You'll Never Walk Alone Watch the Astro Supersport Football!
People who love to enjoy sports, particularly football, should be in that'mamak' culture to watch the games. Restaurant Nasi Kandar is the most popular place to hangouts, is also a terrific venue to watch football and, of course, eat some of the best Nasi Lemak in the city. The entire vibe of the establishment is really lively.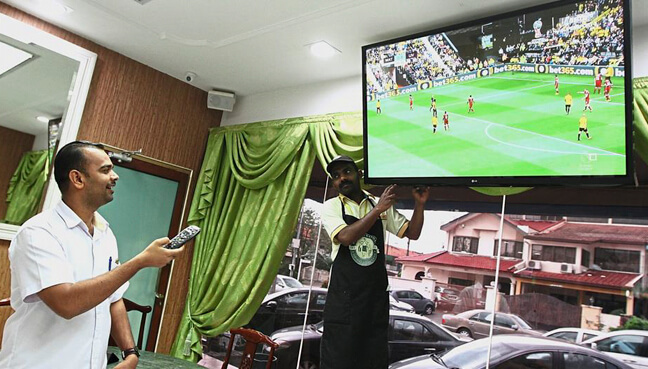 Install the Astro Business Flexi Pack To Attract More Customers To Your Restaurant
With a daily expenditure of only RM19, you'll be able to bring in more football fun to your shop, the majority of which will come from a team member, making your shop more appealing and increasing your revenue.
Now you can get Astro without satellite dish!
Meet the NEW Astro Plug & Play Box. No satellite installation needed. Just plug in, connect to the internet and you're all set to start enjoying your favourite shows.
Watch World Cup Live Sport at ZAITUN RESTAURANT and Enjoy the best Arab & Turkish FoodZaitun Restaurant first...